-- the struggle of joining the rat race vs doing what your soul wants --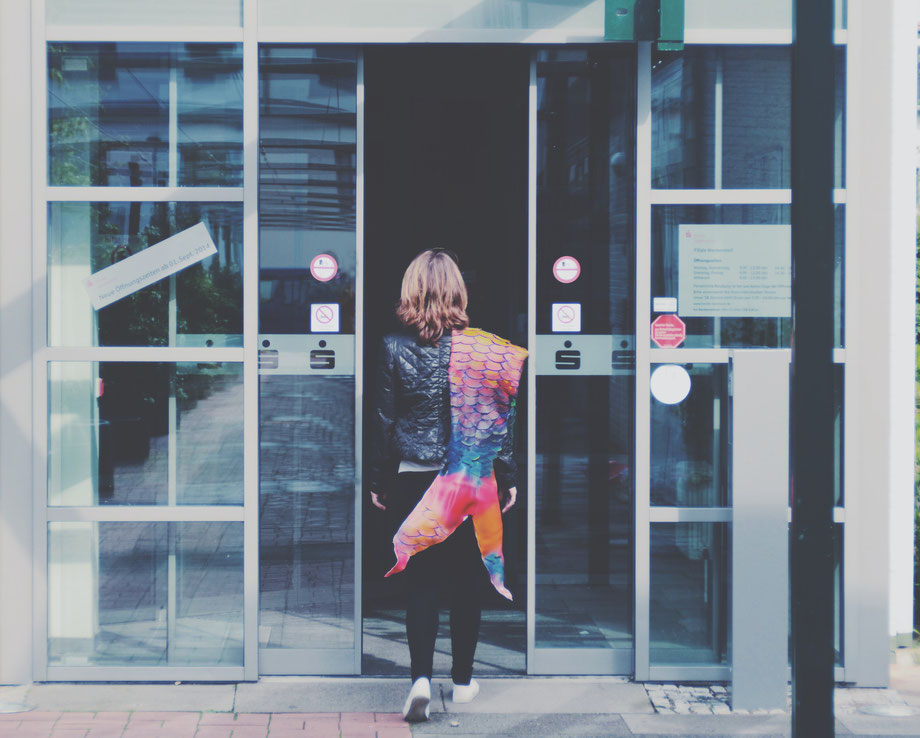 This question followed me around while being on the road for a little bit over three years. I have been traveling through Australia, spend a month on an island in Thailand, three months solo missioning in California, full-time strolling through Indo, part-time reuniting in Germany. Most of the times I was really stoked on life, getting to experience all these situations that were very much unlike all the stuff I knew from my home and pre-travel life in Germany. But a lot of the times I heard my fear voice saying: "Really? This is all you gonna be doing for the rest of your life? Isn't it about time to start something ordinary regarding the safety of your future?"
While sitting at the back of a bike driving through a cold night all wrapped up in blankets snacking your favorite nuts watching the million stars on the sky heading towards the other side of an island to surf perfect waves this question seemed absolutely inappropriate. So inappropriate that it didn't even come up. I never heard my fear voice saying: "You are happy now but you should really figure out an ordinary way to be happy in future." or "There are a million stars in the sky and abundance shines right in your face but you should seriously be concerned about making enough money." No, nothing like that came up. None of these questions were bothering me. I was carelessly floating through life.
But all bike rides come to an end and sooner or later we get back to what we call 'reality'. Reality in form of what society presents it to be. All people do this, all people do that. That's just the way things work. That's just the way things are. We have accepted a fate that an outside world has scripted for us. Not only that, it is our reality. We don't even dare to question it.
One reality, one way things are. But does that makes sense? Is there one reality that applies to each and every one of us or does reality differ from each person's perspective?
"We don't see things as they are. We see them as we are." - Anaïs Nin
No, there is not only one reality. In fact there are about 7 billion realities just as there are people living on this earth. Realities vary in each individual's perspective. Perspectives formed and influenced by countless components such as family background, peer group, education, intelligence, talents, preferences, past experiences and future desires. Not a single person sees life the same way you see it. There is not one thing in the world that is the same thing to another person. We always see things through our own eyes, with our own hearts, reflecting from the viewpoint of past experiences, contemplating from the viewpoint of desires. We are unique and the belief of one reality for 7 billion of us is a trap. 
Yet society has been teaching us that there is primarily one reality, one way of doing things. A certain way to look, a certain way to live, a certain way to love. Anybody who lives differently is either weird or lucky at the other end of the scale. We get told that following our dreams is basically a hobo thing to do and getting rich is only reserved for a minority of lucky fellas. Trying to find our happiness in a system that's only showing us a few trampled down paths drastically limits ourselves and puts us in a place of powerlessness and dependancy. 
Due to the fact that we continuously lose sight of our unique perspectives as we are walking through life we become trapped in a cycle. We don't do things anymore simply for the sake of our own happiness like we used to, crying as loud as we could for whatever we craved for as babies, we think that now that we are able to take care of our own selves we can't be loud and reckless anymore, we must consider other people and try to find a way to quietly fit into society.
In doing so, we hand our power over to other people and a system that's encouraging us to stay more generally than individually happy. Our self-esteem, the way we measure our own success, our self-worth, basically our whole self-image is based upon measurement systems that have nothing to do with us because they do not consider our individuality. We let life-choices depend on things that lie outside of ourselves that's why we feel dissatisfied so often. Not following our own guidance and measurement system we keep getting disconnecting from who we really are and therefore increasingly depended on outside approval while dissatisfaction decreases simultaneously. 
Imagine you had the best idea in the world. One idea that is right there deep inside of yourself and every time you think of it adrenalin rushes through your body. You get excited. Instead of staying excited and trusting in our own measurement system you look outside to find approval. Looking outside for approval is an instinct we've adapted being surrounded by a system that feeds the belief that we are all ordinary and encourages people to stay in those belief borders rather than think for themselves and express their uniqueness. Since what motivates you is only a non-physical vapor called feeling, you seek the physical, and therefore "real" clearance for take off somewhere outside of yourself. It sounds logical and natural, still it is the point where things get messed up.
You have this feeling that deep down you are absolutely psyched about and that makes you feel alive but then you take it to somebody that does not quite feel that excited about life and you let them know about that idea. What happens is that your idea gets destroyed instantly because the other person has a different perspective on it. Maybe he or she has made life experiences that tell him or her that such ideas are condemned to be failures. Even though you were absolutely moved by your idea you drop it because somebody else has a more limited belief system than you. This belief system has absolutely nothing to do with you or your idea, like I said it's directly 100% about the person's perspective itself which is also influenced by society's limited belief system. Double trouble.
No blames on people here. It is super hard for others to see your dreams in full color. Imagine everybody has different magic shades of colors that are absolutely unique and therefore can't be seen by any other person. No matter what kind of picture you paint with your words to explain your idea to another person, he or she will never see it in full color and any judgment only considers a fraction of your dream's whole spectrum. Therefore any judgement outside of yourself is not accurate and basically useless. 
Yet this is the most common thing that happens in our society and that's why people tend to call it the 'rat race'. We are racing around competing and comparing while happiness falls by the wayside. We make it our priority to race, impress and meet rats' approval when what we seek is nowhere to find in small minded animal brains. It's always with us, in our human heart.
So how can we sooth this messed up struggle of deciding between joining society's rat race or following our heart's desires? 
Living in a world that is constantly trying to disconnect us from our inner guidance system by limiting us through scripted lifestyles that do not consider our individuality, we lack the power to drop our social mask and embrace our uniqueness. In order to build up enough confidence to follow our passions regardless of the opinions of others and really own our voice and dreams I think there's no other way around it but finding a more spiritual approach to life.
Don't worry, it's not going to hurt and you don't have to be able to put your foot behind your head or become full on vegan to have a spiritual approach to life. Being spiritual simply means turning inward and not outward to seek approval.
In fact, being spiritual means that seeking approval outside of ourselves becomes useless because when you turn inward you realize that you and your desires are already approved and filled with worthiness by itself due to the fact that you are alive. When you turn towards your inner wisdom you realize that there exists love within yourself that already approves all of your being and all things you're holding yourself back from doing. Especially these kind of actions, these dreams that seem too risky to take because they come from an inner place which can scare the hell out of us, are the ones that are most supported by greater forces because they are guided by the most powerful vibration in the Universe - love. 
This may sound pretty hectic and completely outside of this world but it is our most natural state of being. We just forgot all of it because the world around us is telling us to do the opposite thing. We must get insurances of all kinds to be save and protected in this world, we must collect money so that we are able to fulfill our desires, we have to play small and fit in because we are not strong enough to follow our dreams. All these consultations are fear based though, that's why we feel so freaking lost and fearful sometimes. Our reality neglects the power of love which has the capacity to do anything. 
When you find access to this love there's not much room left for fear. When you trust that the Universe takes care of your life and your well-being because you feel that you are one with it and therefore worthy to live the life of your desires, it instantly takes away all negative emotions.
I know there might be some issues blocking you from experiencing this universal love but I can assure you that it is just right there waiting for you. Any negative emotion you might be feeling right now, no matter how big it seems to be, is only the contrast to what awaits you. Anxiety, fear, stress, hate, depression, anger, doubt - all these feelings only represent one end of a stick. If you know this, you can imagine how good the other end feels.
Being able to experience this love and centering life around it, is really what being spiritual is about. It means to be more mindful throughout life and through daily practices so that we keep being aware of the power that lies within ourselves. The power of the person we are, the power of our hearts, the power of our passions, the power of love that we meant to experience.
I choose not to follow money because I find that this endeavor lacks love. I choose to follow my heart because I do believe that this leads me to everything I desire, all money included. I can't do something now that doesn't make me happy expecting that it will make me happy in future. I honor my passions by trusting that the Universe delivers the best stuff possible to me if I keep walking the path of my heart.
So go out and play. Be happy because you create your own reality. Get on your joy ride and stop running around judging and getting judged by rats. Life's too short to live in grey circles. Break free and measure life by your own standards. Compete with the person you were yesterday and gain things money can't buy. Live for experiences and forget the rusty trophy that everybody runs after. Trust in the support of the Universe and the power of love. Trust in your passions and dreams. Believe in yourself and your heartbeat. Trust that whatever makes you happy to be the key to a wonderful life that fulfills all of your desires.
Seriously, your passions are not random and life is meant to be f*cking good for you. 
share this article ::